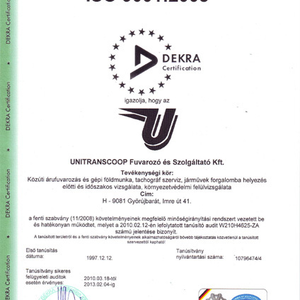 The aim of its establishment was conducting carriage activities, primarily at motorway constructions. By the year 1995 our revenues exceeded one billion HUF, and in 2005 six billion.
In the beginning we worked with subcontractors, then started to build our own vehicle fleet with 10 Kamaz trucks. At present we mostly own Mercedes manufactured trucks, as well as vans and pick-up trucks.
Today our activities include the full scale implementation of earthworks, so over the years we also purchased the appliances required to this end. Our machine fleet consists of excavators, front-end loaders, dozers, rollers, graders and other small machinery.
The net value of our tangible assets is one and a half billion HUF.
In the beginning, we conducted activities in rented premises then purchased a site 5 kilometres from Győr, in Győrújbarát. Later on, this is where we built our office building and workshop. Additionally to our own repairs, we also carry out tachometer repair and calibration for external customers. We work based on an ISO:9001:2000 quality control system since 1997.