Using our diagnostics appliances, we also conduct preparation for MOT testing. Using our tyre repair appliances we also conduct tyre replacement, repair and balancing.
For Mercedes manufactured vehicles we dispose of a Star diagnosis instrument, which allows us to record the repairs carried out. As the majority of our vehicle fleet is composed of Mercedes manufactured vehicles and Schwarzmüller manufactured trailers, with respect to spare parts and tools we can conduct the servicing of these vehicles in a higher quality and with greater experience.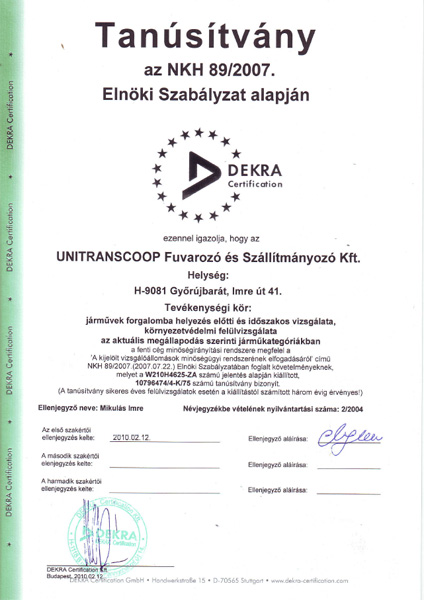 In addition to this, we are the contracted repair service provider of Transautomat kft. in the framework of which we repair, appraise and join KINZLE manufactured tachometers. We repair types 1311, 1314 and 1318. We install, join, activate and also conduct data downloading from type 1324 and the digital 1381.
Our repair workshop is the official contracted repairs base of the Hungarian Agency of Wabco of which we are the Western Trans-Danubian area representative. We carry out the repair and programming of vehicles and trailers equipped with these types of air systems.
Our company has been the opportunity for technical exemination of trucks and trailers since 2007 in Győrújbarát. Our technical exemination base has been working under ISO 9001:2008 quality assurance system.